Integrating Applixir with your Facebook game is simple and shouldn't take more than a few minutes. These instructions assume that you have already set up your account on the AppLixir website and have added at least one game to your account (on the "Games" page).
The download link for the game(s) you created contains snippets and examples that will be helpful for your integration. We've provided a snippet.txt file you can cut and paste the embedded HTML from and a document with instructions for all configuration options. As you are preparing your integration, decide if you will use the local callback to provide custom messages to your users based on what they experience while the video ad is running. You also have the option to use the server to server callback feature which will provide real-time server updates for all ad views generated by your game(s).
Applixir V3 complies with the autoplay standards introduced in Chrome 66, Safari and other systems. Videos will play muted unless the user interacts with the video player which includes controls such as the close button. If you want the player to always be muted set muted: true in the options, otherwise set muted: false or just leave it out.   It's also very important to comply with the IAB ads.txt standard. You will find a text snippet containing the data you will need for your ads.txt file in the download file and additional information regarding ads.txt on Applixir's support pages.
The following is an example of the simplest possible integration of the Applixir V3 system:
<body>
:
<!-- Insert the V3-Snippet.txt file here -->
<div id="applixir_vanishing_div" hidden><iframe id="applixir_parent allow=autoplay"></iframe>
</div>

<script type="application/javascript">

var options = {
zoneId: nnnn, // The zone ID from the Applixir "Games" page (required)
};

// Call the following function when you want to present a video ad to your user

invokeApplixirVideoUnit(options);

</script>

<!-- The applixir SDK file has all required CSS and JavaScript resources (use current version)-->
<script type='text/javascript' src="https://cdn.applixir.com/applixir.sdk3.0m.js"></script>

</body>
You are done setting up basic Pre Roll Video Ads. Look into the next section regarding Callbacks for Reward Video Ads
Once you are done, the video Ad should show as follows (see picture below)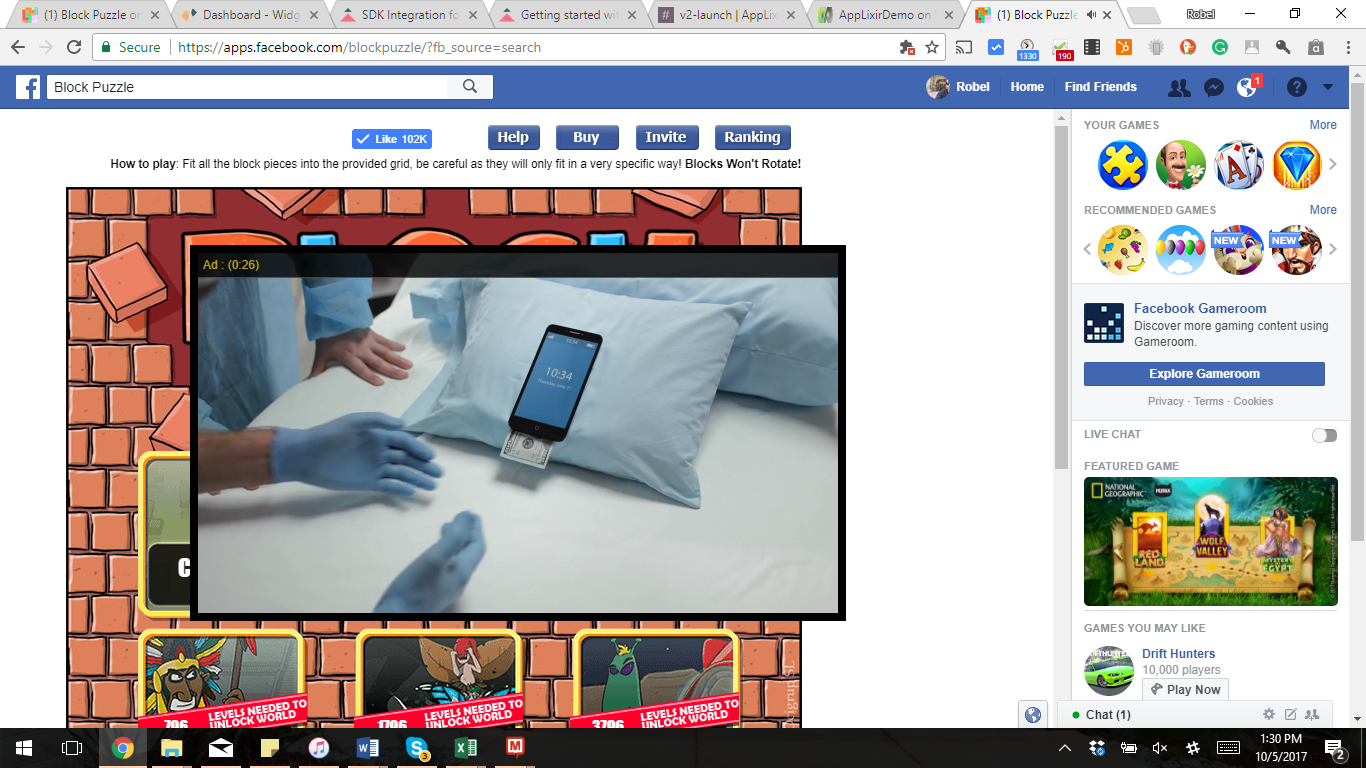 More info on Callbacks?